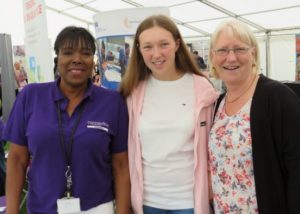 If you have a clear career idea, you could consider an apprenticeship.
What is an Apprenticeship?
It's a way of training for a trade or profession
It's a job which combines training and study
Apprentices work towards qualifications (such as an NVQ, BTEC or City & Guilds), gain work experience and get paid
Apprentices work alongside experienced staff. They gain skills, work experience and get time off for study (normally a day a week)
Most sectors offer apprenticeships. For example: business administration, ICT, motor vehicle, engineering, childcare and hairdressing
How long do they last?
Apprenticeships vary in length. They normally last between 1 – 4 years.
Who can apply?
You must be 16 or over. There is no upper age limit.
What do employers want?
An employer is investing time, money and training into an apprentice. So they want the right person. Typically, they look for:
Good record of timekeeping and attendance
Enthusiasm
Willingness to work towards a qualification
Ability to work as part of a team and independently
Possibly/probably good grades in Maths and English
What qualifications are needed?
Entry requirements are set by the employer. They may ask for two or more GCSE's (grades 4 – 9) or equivalent and possibly additional GCSEs
Advantages?
Earn while you learn
No student loan
Train for recognised qualifications
Gain work experience
Build confidence
Develop skills
Paid holidays
Disadvantages?
Apprentices may be paid less than qualified colleagues
Graduate starting salaries are usually higher
You can't get into certain careers with an apprenticeship. For example, a degree is essential for most medical careers.
It can be hard to change career direction once you have started an apprenticeship
If you don't finish an apprenticeship, you are back to square one
When you are used to getting paid, it can be difficult to go back into unpaid education
Some apprentices find the responsibilities stressful. For example, getting into work on time every day or completing the daily workload.
Missing out on the university experience
Shorter holidays than university or college
Levels of Apprenticeship
There are different level of apprenticeships available:
Apprenticeships are popular and can be very competitive.
Sandwell MBC regularly takes on apprentices. Watch this case study: